Howard Lederer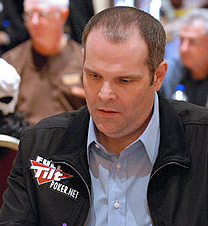 Wikipedia.co.uk
Howard Lederer is currently sitting at just under $6,500,000 in lifetime winnings. He is a native of Concord New Hampshire. Poker is huge in his family as he is the brother of the world famous poker player Annie Duke. Lederer was born in 1964. In 1993 he moved to Las Vegas. Lederer is a self-professed vegetarian and Zen Buddhist. One of the most off the wall things that Howard has done is to eat a $10,000 cheeseburger, just because he could. His Buddhist philosophy helps to maintain his calm and "professor-like" focus when in the midst of a high stakes poker tournament.
He's won countless millions over the years. Much of his winning has come from cash games, endorsements, and other poker venues. He has won two WSOP bracelets and two World Poker Tour titles. Known for his intensity, he is often referred to as "The Professor". He was also voted the first ever Player of the Year on the WPT.
Howard Lederer is a commentator on Fox Sports poker coverage. In addition he is a professional writer lending his journalistic talents to FullTiltPoker.net. When he isn't writing for Full Tilt Poker, he is a frequent poker player there. Although he is referred to as "the Professor" he has never actually attended college. His professorial approach to poker has helped many online poker players advance their skills and develop winning strategies. When he isn't playing, writing, teaching or hosting live poker coverage, he also hosts a poker fantasy camp with his sister Annie Duke. Howard and Annie became the first brother-sister poker team to sit at the same final table at the 1994 WSOP.
Howard Lederer likes to say that poker is a journey, that it is for a lifetime, and he's proven that. Not only has he played poker professionally for more than 20 years, he has a poker game you can play on your cell phone, a World Championship PS2 and Xbox poker game, an instructional DVD, and he's president of Tiltware, the company that supplies the software for Full Tilt Poker, the website with which he's affiliated.
Far from the early years, when he was playing poker 70 or 80 hours a week and losing 9 out of 10 nights, Howard Lederer plays less and knows a lot more. It's been said that he now teaches more than he plays, but that could be because Lederer teaches when he plays. He teaches through his articles and his videos and games. Yet it was just in 2004 that he said in an interview that he was playing in about 50 tournaments a year.
Another sister, Katy Lederer, wrote a book about her famous poker-playing siblings. "Poker Face" profiles the siblings' lives growing up in New Hampshire. She talks about the time when brother Howard was "a two-bit loser", all the way to his pro days. It's easy to see how proud she is of both her siblings.
Lederer admits to a life outside of poker. He says he likes to play golf, watch movies and read philosophy. He stated in an earlier interview that he works out to help prepare for a tournament, and he works on focusing his mind. That's where Zen comes in.
Other than consulting and being a commentator on Fox Sports, Howard Lederer also co-hosts "Learn from the Pros," which is sponsored by FullTiltPoker.net, and also airs on Fox Sports. The show has other poker pros on as well, and they discuss the famous game of poker, and viewers email their questions into the poker legends.
Consulting and commenting and teaching are certainly perks that arise out of the famous tournaments poker legends win. Endorsements are another moneymaking venue as well. Howard Lederer agreed in late 2005 to endorse Jim Beam Knob Creek Bourbon.
At 6'5", Howard Lederer can certainly seem intimidating, especially when you add his incessant intense gaze. Yet that intense gaze or rather the intensity behind it is what undoubtedly has made him the poker legend he is. He never makes a hasty move; he is always analysing, thinking, focusing. Whether he's talking poker or playing poker, Howard Lederer will always be where poker is.