What is a credit card?
For the longest time credit cards have been referred to as "plastic money." This is for the obvious reason that credit cards are made of a very durable plastic with your special account number embossed on it. Over time credit cards have evolved away from being a leading sources of plastic to a leading virtual means of online cash transactions. Unlike a debit card or other third party processors that rely upon cash transfers from your savings or checking in most cases, a credit card lets you spend borrowed money up to a specific limit for whatever purpose you might want and in this case, for online credit card poker.
All poker sites that service players from the UK accept credit card funding so it's not surprising that it's the first thing we reach for when we want to deposit and play for real money in £GBP. Players from other countries are not as fortunate as you are.
How does it work?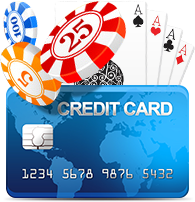 Credit cards came along as a way to enable people to purchase over time by not using cash balance in a savings or checking account. Some refer to it as a form of revolving credit. A credit lender bases how much you can be lent according to your income and current, income to debt ration. So the higher your income and lower your debt the higher your credit limit is. It is very advantageous to have a good credit rating. This is a primary factor in both spending limit and of course the fees that are associated with your credit.
Once you have established your account and know your limit, you merely provide that information upon making a deposit into your poker account. A great benefit of using a credit card is that you have a built in limit and will not be allowed to go over that limit upon depositing. It is always important to remember that the revolving aspect of credit is that you will have to pay off your balance sooner better than later due to the fees associated with it usage.
Using your Visa or MasterCard (two of the most popular) is very easy. Just enter your card details including the verification code found at the back of the card. You might need to wait for a couple of minutes for your bank to approve the transaction. Once approved, you're ready to join tournaments and play for real money.
You'd be happy to know that UK players usually don't have a problem getting their transactions approved.
Why credit cards for poker deposits?
Credit cards are the easiest and most respected method of banking because they give you financial flexibility as well as security. You cannot spend it if you don't have it and because of this, those online poker sites that accept major credit cards know that they are safe in taking your deposit. Keep in mind that if you have a large credit limit you could easily be carried away by all the fun of online poker.
Top reasons for using your credit card to play online poker:
Very convenient and low fees to no fees associated with its use.
Highly regarded as one of the best forms of online currency.
Unlike eWallets, you don't get extra charges when you go to credit card poker sites.
Earn extra bonuses when you play at credit card poker sites. Earn extra points and rewards from your credit card company that can really add up to great rewards.
Credit Card transactions are actually considered to be the safest when playing online poker.
All currencies are accepted. Auto-convert currency. Currency included is GBP, EUR, USD or many other forms of currency.
Because the major credit cards have so many benefits including super simple to use, it really is the first choice of all the most avid poker players. Using a Visa or MasterCard is pretty close to a guaranteed smooth and hassle free transactions. Check out our highly recommended online poker sites and start playing some serious poker. If you aren't a serious player, then just relax and have some fun winning real money.