How to play Omaha hi lo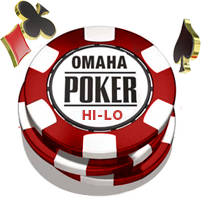 Omaha Hi/Lo Poker is a great form of poker. In some ways it is similar to type of the popular well-known Texas Hold'em Poker game. As you are searching for articles online or places to play Omaha Hi/Lo it is important to know that it is also called Omaha High Low as well as Omaha H/L, Omaha 8 and Omaha 8 or better. No matter what you choose to call this high paced poker game once you know the ins and outs of it you are going to love this poker variant.
Like all other poker games, Omaha Hi Lo is an easy game to understand. It is important to gain a better understanding of the game through familiarity with the terminology. It is also a good idea to become fluent with the betting rounds, because you don't want to be surprised.
Omaha Hi/Lo is known as a community card game. This means that as well as being dealt individual cards (faced down); players also get access to 5 community cards (face up). This is a common way of playing poker. All players are able to use the 5 community cards to aid in their final hand in an effort to win the hand.
Dealers in Omaha Hi Lo Poker
In Omaha Hi/Lo poker, if there is no assigned dealer then a "dealer button" is used. This indicates who the dealer should be. The dealer button rotates clockwise around the table between all hands. What this means is that all players get a turn to become dealer.
Objective of Omaha Hi Lo Poker
The aim of Omaha Hi Lo poker is to get the winning 5 card high hand; the winning 5 card low hand through the use of 2 personal cards and 3 community cards. You can use different personal cards with your high and low hand as long as you are using 2 of them (as well as 3 community ones). If you have the best high hand you win half the pot of money or chips (and likewise if you make the best low hand too). But in a case where only someone wins the high hand (not the low hand) then the one who gets the best high hand wins the whole pot and it doesn't have to be split.
"Lo" Win in Omaha Hi Lo Poker
To even qualify for winning the low hand, you need 5 cards which are all 8 or lower (ace counts as 1 in this case). You cannot have a pair but you are able to have a straight and or a flush. The lowest possible hand (which will probably mean you will win the low hand) is when you get an Ace, 2, 3, 4, and 5. The highest possible hand is if you get an 8, 7, 6, 5 and 4. If you have ever heard the term "scooping the pot" that means that as a player you have won both the low hand and the high hand.
Omaha Hi Lo Betting Rounds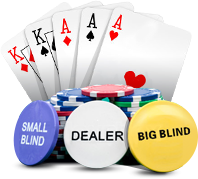 There are 4 rounds of betting in all Omaha Hi Lo poker games. Usually all bets have to be the same as the low limit bet in the first 2 rounds and the last 2 rounds, they have to be equal to the high limit bet. Three raises maximum are permitted in each betting round.
The other thing you have to know when learning how to play Omaha Hi Lo poker is what happens with "blind" bets. Blinds are two bets that are forced in every hand. A small blind comprises half of the low limit bet size and a big blind is the same as the low limit bet size. Prior to the beginning of the betting, the player sitting left of the dealer button (in effect sitting left of the dealer) has to post the small blind and the one sitting to his or her left has to post the big blind. Although these bets are forced they do count toward the player's first round bet and the player can choose to raise even when no one else has.