Gus Hansen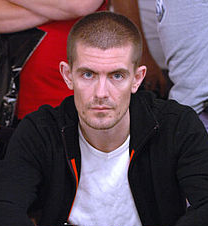 Wikipedia.co.uk
Gus Hansen is a an interesting poker player in that much of his time is spent not only playing poker but betting on many areas and is quite diversified. Originally from Copenhagen, he got the taste of poker when studying at the University of California, Santa Cruz as an exchange student. However, he made his debut at about the same time as poker exploded into the national psyche and has become one of its burgeoning stars. Gus's intriguing style at the table has made him a favourite of fans of the game. His Danish good looks and a twinge of a bad boy personality have made him a favourite of the ladies.
Currently Hansen lives in Monaco when he isn't jet setting around the world. He sits as the leading Denmark, all-time money list with total tournament earnings in excess of $11 million dollars. Recently Gus indicated that while he has fallen out of sight due in part to his separation from Full Tilt, he intends to focus on refreshing his game and bringing a whole new set of skills and insight to the European Poker Tour in Monaco this coming year.
Gus was both a champion tennis player and a world-class backgammon player while a youngster in Copenhagen. He travelled to the United States looking for a larger venue for his backgammon talents. It was in southern California that he discovered poker: the game that would replace backgammon as his passion. Gus applied the same keen intellect to learning poker that he had used to learn his excellent, idiomatic English. It didn't take him long to master the game and discover his own unique approach to playing it. Gus became widely known for his wild approach to betting. He often wagered enormous amounts on less than stellar hands although others at the table could not always be sure that was the case. His opponents soon learned that they never really knew Gus's betting strategy and that was just the way he liked it.
After a trip back to Denmark in 1995 to fulfil his obligation as a Danish citizen to perform public service, he came back to the States and dedicated himself, in earnest, to playing professional poker. His return coincided with the tidal wave of poker enthusiasm that was hitting the beaches in 2000. In 2002, Gus ventured into world-class tournament play at the Bellagio by entering the Five Diamond World Poker Classic. Shortly after that Gus vaulted to national public attention by winning the inaugural event of the World Poker Tour. This achievement made Gus one of the first inductees into the World Poker Tour Walk of Fame along with poker legend Doyle Brunson. Since that time, he has garnered more than $2 million in prize money toiling at a variety of tables.
Gus says he doesn't play cards, he plays people and he does that very well. Recently he has confessed that he needs to begin to switch up his approach to playing poker, especially when online. His game has slipped to some degree but he is hopeful that that is a short-lived reality as he delves deeper into establishing a new way to play through lower limits. He certainly has a wide-ranging knowledge of poker and knows the mechanics of the game inside and out, Gus relies on reading his fellow card players rather than relying solely on statistics. Not one to try to talk players into making mistakes, Gus instead preys on their weaknesses and capitalizes on his own kamikaze willingness to risk it all. He continues to employ the distinctive "Gus" method of play. Keep your opponents off balance by making widely divergent, hard to track bets. It's not a tactic that the average player can always use to his advantage but Gus does so with a consistency that has made him a top player.
Away from the table, Gus enjoys the ladies and makes it known that for the moment he is content to play the field and enjoy himself. He travels frequently for pleasure and for tournament play. Gus can often be found at gaming tables in some of the world's most sophisticated cities including Monaco, Barcelona and, of course, Las Vegas. Pokerchamps.com was a start-up poker site in 2003 and was another one of his side-lines. Word has it that Gus received a handsome profit when it was sold two years later.
Many professionals look askance at Gus's unconventional attitudes at the poker table. He delights in the derision of those who call him lucky. In fact, he uses their lack of faith in his ability as a tool for winning. Gus and his maverick methods have made him a star at the table and away from it. Neither his luck nor his fans appear to be close to deserting him any time soon.