payment options
Great Software
The BetFred Poker software is just what you'd expect from a Playtech room with great graphics and a fast, smooth feel to the poker games. Playtech's software offers some of the smoothest in the industry, which means great gameplay. You will experience a much more effective poker game because you are not worrying about jerky, clunky software. Playtech has all the bases covered as a result of years of gambling software experience backing them up. Multi-tabling is easy with up to four tables showing in the screen at one time if desired. There are a wide variety of avatars that you can choose from at Betfred Poker, plus the ability to keep notes on other players you encounter as well as your own tournament play.
Mobile poker players will be delighted to know that you will be able to experience the same great Playtech software on your mobile device. Smartphones of all types work very well with the no download, flash format. Additionally iOS and Android users can quickly install and benefit from the Betfred mobile apps. Players who need a break from poker can slip over to the casino and enjoy Playtech casino, bingo, multiple table games and even experience live dealers. Simply install the Betfred casino app.
Game Selection and Tournaments
Our 2022 online review of Betfred Poker proves that one of their calling cards is the tournament action on the site. As a host to some of the most lucrative tournaments it is no surprise that they are climbing in the best poker charts. With buy-ins as low as .55 and ring games beginning at $0.01, they are bringing in players from all over the UK who are looking for friendly games and easy to enter tournaments. Not only do they offer low buy-ins all the way around but they have a place for the higher stakes player as well with buy-ins into the hundreds.
All of Betfred tournaments support very high poker traffic. In addition to that they are faster than most sites and easy to understand. Because Betfred Poker is a part of the iPoker network, they are known to host a high volume of big payout tournaments. How does a monthly $250,000 guaranteed or a weekly $100,000 guarantee grab you?
For the very serious player, Betfred Poker is a premium host site to many satellite live poker tournaments. Players, who participate in the SNG tournaments, could possibly be in a prime position to win a huge jackpot and a seat with the biggest land tournaments.
Betfred Poker - Our Verdict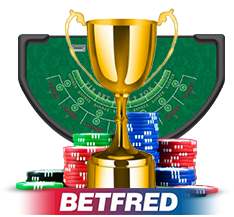 Anyone who has been playing at land based casinos or online over the past 15+ years is familiar with PlayTech casino technology. They are ranked as one of the best providers of gaming for adults. Well, Betfred Poker is a part of PlayTech - iPoker network. The network is rapidly growing and casino software developers are finding their niche in the online poker community. Betfred is holding on to its own in with the new field of participants. Because they are a part of a particular network players are discovering that the games are looser and they have much bigger tournament payouts. They learned that method through their huge jackpot and progressive approach to slots. Betfred and iPoker has some great promotions that have helped to bring in new players to the site.
Our online reviewers found Betfred Poker software to be very engaging. Not only was the overall format smooth and entrancing, but also it had fun graphics. There is a pretty nice variety of poker games available in both ring games as well as sit n' go, MTT- multi-table tournaments and freerolls. It is not unusual to see as many as 50,000 tournament players online at peak periods of the day and night.
Our expert reviewers really liked Betfred Poker for their generous tournaments, loose games, soft play engaging software and the backing of Playtech was an added bonus.