payment options
Bodog Poker Review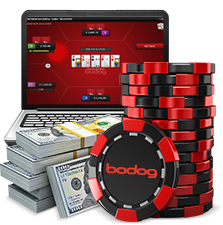 Bodog Poker rooms often have anywhere from 10 to 15,000 players at a time. We did discover that due to the US poker player influence that it is not quite as low keyed and relaxed as some of the other bigger fish markets from Europe. They are considered one of the top ten poker sites globally.
Our expert reviewers discovered that in keeping with the US poker player style of play the software moves fast looks good and the overall playability is awesome. We found many options to customize the experience and atmosphere including the ability to multi-table easily and so will you. One neat option is that your cards are left visible until the hand is over so you can see what you would have had if you played through to the end of the hand.
Bodog Poker offers a wide range of tournaments, including sit n' go tournaments with buy-in levels to suit beginners and keep the attention of more advanced players. Tournament variety is a Bodog premium attribute. Most of the action is based around Texas Hold'em but there are Omaha tournaments and cash games available. However often at the cash tables there are mostly Hold'em games. This is not to say that there are not more sedate cash tables featuring Omaha, Seven Card Stud and Five Card stud tables. All the same Bodog Poker offers variety. Despite the more aggressive aspect of some tournaments and the US poker player traffic it has a reputation for attracting soft competition with a reputation for one of the weakest player bases around. This is due in large part to the balance of players from the UK, Europe and Asia. We found it refreshing that we could find competitive tournaments as well as recreational formats.
Bodog Poker Software Review 2021
Bodog Poker is known for its user-friendly format. They offer one special feature that many poker sites do not and that is that you can play autonomously so that you are not traceable by sharks and more aggressive players. Additionally there is a three in one table window that allows greater visibility. Unlike many sites, they also keep your hand visible until the hand has been completed.
Fortunately for poker players all poker variants are available in all forms of play. Real cash players will love that as they can easily focus on their strongest form of poker at the same time increase up their skills through the many tutorials that developers have included to help players advance the game. When you need a break from all the real money poker games you can slide over to a game of Blackjack, roulette or even some easy to use slots.
Unfortunately for poker players who prefer to play mobile version you may be disappointed. They are currently only offering downloadable poker and that will limit those who love to play online poker in the mobile variety. So, don't put away your iPhone, Android or smartphone just yet, 2021 brings with it many advances for Bodog Poker. Overall the Bodog Poker software is smooth with a good level of traffic meaning games are always available to play. The weak player base gives the opportunity for most levels of player to make a reasonable profit. Bodog Poker (BodogPoker.com) is definitely worth a look.
Our team of reviewers found Bodog to be sufficient in its overall delivery of online poker and superior in the high quality software, rapid play action and easy competition. There have been some mixed reviews due to the high volume of players from the US. It is rich in new players so therefore you can anticipate soft play and weak players. The download software is very nice with some special features, but lacks the no download/instant variety that will lend itself nicely to mobile enthusiasts. Because Bodog is easily one of the mainstays of the online gambling circuit it proves to be a reliable source for both recreational players and serious poker pros.
BodogPoker.com Bonus
10% of first deposit at www.bodogpoker.com
Banking at Bodog Poker
Deposit:
Visa and MasterCard, Click2Pay, eWallet Xpress, and direct money transfers
Withdrawal:
BodogPoker.com pays by first class mail, courier, and direct money transfer.