European Poker Tour (EPT) Information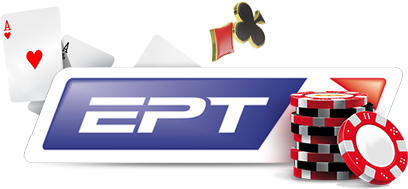 The EPT has quickly become established as Europe's premier live poker tournament circuit. Season 4 in 2007 features 9 big buy-in live tournaments at venues throughout Europe – cumulating in the prestigious 'Grand Final' in Monte Carlo. This page provides the information you need on the EPT schedule and shows the best way to qualify for these events in online satellites for just a few dollars.
EPT Season 4 Schedule 2007-2008
EPT Spain, Barcelona. Buy-in EUR7,700+300. August 28th to September 1st 2007
EPT London. Buy-in 5200+200. September 25th to 29th
EPT Baden Classic, Austria. Buy-in EUR7,600+400. October 7th to 10th
EPT Dublin. Buy-in EUR7,700+300. October 30th to November 3rd
EPT Prague, Czech Republic. Buy-in EUR4,700+300. December 10th to 14th
EPT German Open, Dortmund. Buy-in EUR7,700+300. January 28th to February 2nd 2008.
EPT Scandinavian Open, Denmark. Buy-in DKR50,000. February 19th to 23rd 2008
EPT Polish Open, Warsaw. Buy-in PLN29,000+1000. March 11th to 15th 2008.
EPT San Remo, Italy. Buy-in EUR7,700+300. April 1st to 5th 2008.
EPT Grand Final, Monte Carlo. Buy-in EUR10,000+600. April 12th to 17th 2008.
Online Satellite Qualifiers To EPT Events.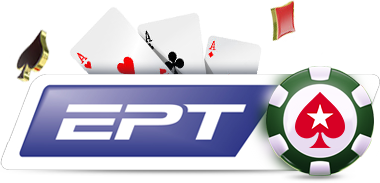 Many online poker sites offer low buy-in satellite qualifiers to the EPT live poker tournaments. Each site organizes EPT satellites in slightly different ways. This guide will show you what is available and help you make an informed choice about the right way to qualify for these prestigious live poker tournaments.
EPT Satellites At Poker Stars
PokerStars.net is the main sponsor of EPT, as well as the largest online poker site. There are always a range of satellite qualifiers available with direct entry through 'super-satellites'. PokerStars also hold daily tournaments that allow you to qualify for the direct entry events for a smaller outlay. These include re-buy tournaments, freeze-outs and smaller buy in double shootout qualifiers involving two single table sit and go tournaments. Check out the great range of EPT satellite qualifiers at PokerStars today.
'Winners Choice' Satellites At Full Tilt Poker
Full Tilt Poker hold satellite qualifiers for all WPT and EPT events. The winners choosing the event in which they play. These are a great value way of qualifying for these large buy-in live tournaments – with Sit and Go qualifiers to the weekly tournaments being very popular. Check out Full Tilt Poker today for more information.
'Players Choice' Satellites At Bodog Poker
Bodog run a promotion similar to the Full Tilt 'Winners Choice' qualifiers. Named 'Players Choice' winners of these online satellite qualifiers have a huge range of live poker tournament entries to choose from in both Europe and the USA. Satellite tournaments start at just $1 (or loyalty points freerolls) and go up to $270 for entry. Check out Bodog Poker today
Don't miss out on the chance to get in on big games, even if you are just starting out. Even new players can win seats at some of the most prestigious tournaments in the world, and just playing in the online poker tournament rooms, like those listed on our site, will give you thrills and excitement without ever leaving your house. Plus you get real money when you win and sometimes even when you lose. Yep, if you play the hi-lo versions offered for various poker styles you can win even when you have a losing hand. Get started now and choose one of the great tournament poker sites on this page.