What is a debit card?
A debit card is similar to a credit card in the sense that you use a card to fund your online poker account. The only difference is you're not spending money that you don't have yet. The money is coming directly from your savings or checking account. Many banks will allow a certain amount over your actual balance, but typically it is your money, your balance, your freedom to spend the same way you would a credit card, but it is a cash transaction.
There are many third party processors out there today that will convert your cash deposits into the form of a Debit card that can be used, privately and in some cases autonomously. Much like the very popular restaurant gift cards. A set cash value is placed on the card and then it is processed the same way a credit card is, but you can only spend that amount which is placed on the card.
Some of the most popular companies are offering debit cards such as Visa Electron, Maestro, Visa Debit, Laser, and Solo to name a few. The UK online gambling organizations are ahead of their time in taking some of the biggest name debit cards. Be certain to choose the more popular brands to guarantee that when you play poker online, debit card of your choosing is accepted.
How does it work?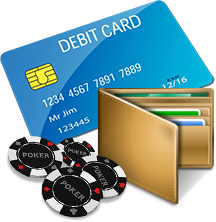 There is one of two primary ways in which your debit card will work. One way is to have your debit card directly connected to your bank account. In this type of exchange the debit card is used like an electronic check, in that it removes, debits your account in the amount of your specified deposit amount. Just simply choose debit transaction when depositing into one of our recommended sites.
The other method is to purchase debit cards in a specified amount and then you have that exact amount of money to deposit. Again you will specify the amount, but you will not be able to go beyond the amount specified. In either case you have the freedom of plastic, with the reliability of paying in cash. The entire process takes only minutes and you will be able to join outstanding tournament play or a relaxing game of poker at your convenience.
Although most online poker sites and online casinos will let you withdraw your winnings with a debit card, many limit debit cards to deposits. Be certain to check with the online poker site cashier for specifics. Fortunately when the poker sites do accept debits for withdrawals, they will also absorb any costs associated with the withdrawal. So, either way you are winning.
Why debit cards for online poker deposits?
Forget eWallets and wire transfer, online debit cards poker are perfect for players in Great Britain because they're convenient and easy to access.
Some of the superb benefits that accompany a Debit card are:
You never have to worry about going over your weekly budgeted amount. You can only spend what cash you have access to.
There are limited to no fees associated with depositing or withdrawing.
Safe and secure - in some ways safer than a credit card.
Highly regarded as a preferred form of payment.
Widely accepted. Whether you're in Great Britain or anywhere else, it's not hard to find debit card poker rooms.
Playing online poker is an extreme thrill and provides an outstanding form of enjoyment for professional gamblers, as well as the weekend warriors. Regardless of why you play online poker, playing with cash is all the easier because of debit cards. Remember that not all poker sites are created equal, or willingly accept debit cards. Knowing this is the exact reason why we had our experts identify the best online poker sites that do accept a wide variety of debit cards.
Titan Poker - With tournament players that can be as high as 25,000 during peak times, you'll surely be kept busy every time you're online. Try their wide range of classic poker games such as Texas Hold'em and Omaha.
William Hill Poker - Get 100% bonus up to £400 on your initial deposit. They have one of the best track records amongst UK poker sites so you can bet with confidence.
888 Poker - Take advantage of their 100% bonus up to £500 when you sign up. 888 Poker is on the list of almost all poker site reviews and is a highly respected online gambling company. They've recently upgraded their software with more features so make sure to check it out.
Debit cards are awesome because you simply cannot spend that which you do not have. Your fear of not knowing when to quit is minimized when using your debit card. Try signing up to one of our top rated poker sites above and enjoy gambling without the risk of losing too much money. All of our recommended sites also offer free tournaments, freerolls, and free play when you find you need to take a step back or even enjoy one on the house.