What is online Android Poker?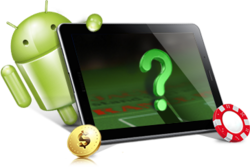 While iPhones are in the news daily and everyone talks about how amazing they are the truth is that the vast majority of smartphone users in the world have Android devices. At one time there were minimal apps for Smartphones but increasingly there are more apps available for Android and they are easier to find than the laborious iPhone and iPad apps. So many of the online poker site developers have put out more Android apps primarily because of the number of users. Android apps are a little more simplistic than the iPhone apps, but that does not mean that you will not have amazing opportunities to play some very exciting mobile poker. You can anticipate many of the same features as you would with downloadable poker. The limited aspect will come in the way of multi-player, multi-table games. Don't let that discourage you because you can be sure that little downside won't turn towards perfection in the coming year.
If you are not in the mood for downloading apps or becoming involved with the simple installation, you can always access no download online poker at all the best poker rooms. Provided that you have the most up to date version of a web browser and a decent Internet connection, then you will be able to play on any of the major poker sites by way of your Android device.
To download and install your app, just follow the simple instructions. It is best to do it the first time at a time when you have a good Internet connection or a strong 3G or 4G signal. It will install all the quicker. After following the simple registration you will choose a payment option, username, and voila you will be ready to get down to some great poker on the go.
One little suggestion is that you try out your app and explore the poker site prior to playing for real money. Even if it is a familiar name like TitanPoker or PokerStars, the interface will be a wee bit different and you do not want to labour over the way it plays when you possibly have a great hand.
Why Android poker?
Lots of people prefer Android because it's very easy to use and there are lots of free apps available for download. And poker sites on your Android smartphone are no different. It provides many great benefits including:
Easily accessible: Almost all apps are compatible with Android so you don't have to waste time looking for the best sites to play at.
Very convenient: Play when you have a few moments to spare or while you is in the midst of teatime. As long you have your Android device with you and you're online, playing real cash poker is within reach.
Excellent gaming experience: Top online poker companies created these apps so you're assured that they use only the best software that provides high quality graphics for a smooth game play.
Safe and secure: Some may have second thoughts on playing on their Android phone. But truth be told, it's more secure since poker sites go an extra mile to ensure that it's safe from viruses and hacks. So no need to worry because you can play real cash poker safely.
24/7 Customer support: Customer assistance is available any time of the day. Whether you're in Great Britain or out of the country for a vacation.
Interactive game play: Touchscreen features allows for interactive game play for a better, more fun poker experience.
Free games: Most online Android poker sites offer free games so you can try out the games before depositing real money.
Exciting games: Aside from the old time favourites Texas Hold'em and Omaha poker, get a chance to try new games these sites offer, including 3D poker.
We Found The Best Android Poker Sites
Despite mobile online poker being relatively new to the scene in comparison to the old school method of download on your desktop computer, our team of experts have cut their teeth on poker online and land. They have kept abreast of all the changes and have studied all aspects of online poker for over 25 years. Because of this you can be quite confident that they are bringing you spectacular mobile recommendations. Our expert team of reviewers did this for you so you can save time and increase your share of the real money winning.
They meticulously go through every aspect of an online website and search for the most popular sites in Great Britain. They then put them through thorough checks and balances ranking them according to user friendliness, graphics, software, customer support, and security to ensure that you get to try only the best. Make sure to visit our recommended sites and enjoy the benefits of playing Android poker.