What are easy poker sites?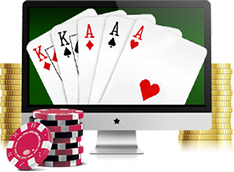 One of the most beloved terms in chat rooms and poker site discussions is "fish." If you were new to the world of online poker and/or maybe from outer space you might even believe that people were talking about a huge aquarium. But the concept of "fish" is a term to reference the skill level of poker players. Those who are unskilled or novices are referred to as "fish." They are typically your easy to beat players. The big - highly skilled poker players are often times called sharks, why, because they prey on the fish. We have come to respect the benefit of both fish and sharks. In fact, we would even go so far as to subdivide up fish into "minnows," "guppies," and emerging big fish. No matter your skill level, there are great rewards in playing at sites that offer a wide variety of tournament options and regular game play for you.
In the end the best poker sites with high volumes of fish are called "easy" or "loose," and sometimes "soft," as they tend to give players the highest chances of winning in the long run. Add in the many hefty welcome bonuses and loyalty rewards and you will be more concerned with how to withdraw your hefty real money winnings. No worry they're all of our recommendations carry with it multiple methods of high quality deposits as well as rapid withdrawals.
How do you spot top easy poker sites?
Loose poker rooms are those that have tons of fish. These are common on large poker sites as they most likely have massive mainstream advertising that attract all types of players, including newbies who are intrigued and want to try poker online.
If you're looking for the poker sites that has a high level of fish (of all levels) then visit ones that are part of a gambling network with casino games and sports betting options. These poker sites with fish have a steady stream of inexperienced players who are most likely there to see and try online poker for the first time. The reality is that poker; both online and land-based is in an ever-expanding period of growth. Daily there are new players coming on board. So wherever there is a high volume of players then there will be a ton of fish.
How can you take advantage of poker sites with fish?
Being in poker rooms full of loose players has its advantages. Making it work for you is the key to winning big and advancing your place in a particular network. Try to find sites that have many on-going tournaments including freerolls and sit n' go's. Next try your hand at free play for a while until you get really comfortable with the given software and poker community. Don't spend too much time playing for free, especially if you discover that you have a natural talent for the game. If you are in any way struggling to understand the rules and guidelines, then ask for help. All of the best online poker sites offer poker schools and easily accessible tutorials.
Because all of the sites that we have recommended have a wide variety of buy-ins, tournament fees, and limits or even no-limits there is no reason to have trepidations in your attempt to go up against strong players. Remember, when playing poker you are going against other player's hands. What you do with the hand you're dealt, determines the winner. Even the best players are sometimes dealt bad hands and have no choice but to relinquish power to the better hand. This is where developing even basic strategies will help to provide you with both easy play and easy wins.
We Found The Best Easiest Poker Sites In The UK
We know it can be overwhelming to sift through all the poker rooms in Great Britain so we did the time consuming work for you. Our team of expert reviewers and poker enthusiasts identified the top easiest sites in the UK to play poker online.
We ranked these sites according to the games they offer, the amount of players they have at any given time (very important as mentioned above), if they allow multi-tabling, minimum deposit required, and the bonuses they give.
So if you love poker and looking to score big, head on to any of our recommended poker sites and take advantage of the easiest poker sites.