A Beginner's Guide to Playing Online Poker
Online poker is very similar to the poker we all know and love to play in brick and mortar casinos. The only difference is that you can play it at the comforts of your own home. It also gives beginners a chance to learn the ropes of the game without being pressured or intimidated by face-to-face opponents.
And unlike live poker, online poker sites have low starting bets and give generous welcome bonus schemes. Below is a step-by-step guide on how to get started with online poker.
What You Need To Play Online Poker
Well, first on the list is a laptop or a desktop with decent specs. Unlike other online games, poker doesn't really require advance processors or top of the line hardware. You can even play poker from your smartphones by simply downloading online poker game apps.
When you've got all your hardware set up, it's time to download the software of the poker site of your choice. Most online poker rooms only support Microsoft Windows so it's best if you've got one, so you can save time looking for a site compatible with Mac OS.
How to choose a poker site?
The first thing that you must consider is the popularity of the site. The more people that play/recommend the site, the better. The large, popular online poker sites have wider selection of games compare to the smaller ones.
It's also important that you at least have an idea of the kind of poker games you want to play. Some sites specialise in tournaments while others in ring games, also known as regular non-tournament single-table poker games.
If your main goal is to earn money, it's best to play at a site with less skillful players. Some sites tend to attract stronger players than the others. Also, even within a site, some games will be way better that the others.
Since most online sites deliver when it comes to client software experience, the one deciding factor that you need to consider is their bonus scheme and loyalty program. All sites have their own promotions aimed to retain customers, but some offer more generous bonuses among other cool perks.
If you're planning to play for real money and go big, you don't want to go for a site that doesn't have a good track record when it comes to processing payouts. Turnaround time is also important. Read reviews to ensure that the online poker site you choose doesn't give players a hard time when it comes to cashing in their winnings.
Play Money vs. Real Money
The great thing about online poker sites is that you can play without betting real money. But playing with real money doesn't necessarily means high stakes. Some of the more popular online poker games allow tournament buy-ins as low as £2. Start small and as you gain confidence, you can increase your bet to add excitement to your game.
Deposits and Bonus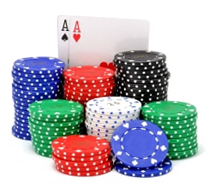 To encourage players to play on their site, online poker sites give welcome bonuses as high as £1000. But of course, there's no such thing as free money. There are terms and conditions that apply before you can claim these bonuses.
For instance, in order to avail of the welcome bonus after signing up, you need to deposit an initial amount in your account and play specific games and follow the site's playthrough requirements.
Online poker sites usually give out player points and once accumulated, can be converted to bonus money. Make sure to study the site's bonus scheme before you sign up to maximise your earnings.
How to deposit money in your account?
Internet poker sites are all about convenience. They offer almost all types of payment method you can think of.
The easiest way to deposit money is using your Visa or MasterCard. Transfer takes only minutes and will appear in your account automatically.
Bank draft or bank wires are also widely accepted but comes with a hefty fee of around £20-£50. Although expensive, it saves you the hassle of opening a new web-based account and is generally safer since you don't need to share your personal information.
Neteller and other online payment system such as PayPal, Ukash, Skrill, and Click2Pay are also safe deposit methods. A fee is also charged when you use any of these services.
How do you withdraw your winnings?
Withdrawal of payouts can also be done the same way you deposit money. If you opt for check payment, it might take weeks before you receive your payout. Online poker sites also impose charges each time you withdraw your winnings.
Beware of sites that take too long to process your withdrawal. Your first withdrawal is usually the longest since they have to perform anti-fraud checks. For instance, they might call you to confirm details but afterwards, it should be quick and easy.
Bad sites usually delay the processing of your withdrawal in the hopes that you change your mind and cancel your request. They even impose a 3-5 days waiting period before they begin processing your request.
The most important thing to remember is to always search for reviews before you sign up for any online poker sites. There is tons of information that you'll find useful available on the web. All you have to do is research. That's the most important tip any one can give you. Luckily, our team has done the hard work for you and you can find all the information right here at PokerSoft.co.uk
Once you're done setting up your account, it's time to flex those muscles and play poker