Apps & More: Your Poker Software Guide
One of the most important factors that you must consider when choosing a poker site is the type of software they use. It's the core of any online poker room so it only makes sense to choose one that really invested in their software.
Scroll through to know more on how poker software works and how it can help you with your game.
What is Poker Software?
Poker software runs the whole site. It determines the quality of games in terms of graphics, how responsive the site is (you don't want to play in a buggy one), and most importantly, the security features.
Some of the best-known software in the online poker industry includes:
Playtech
Playtech is on the top of the list. If you've been playing poker for a while now, you most likely encountered a lot of pokers sites that use this software. Founded in 1999, Playtech built its reputation over the clarity, consistency, high quality graphics and being a pioneer in online gambling development.
They pioneered some of the major advances in poker technology over the past decade such as the iPoker software. iPoker is the first poker software to use both 2D and 3D views of poker tables, as well as the unique full screen view mode that makes the whole experience very cool and interesting. They also have a top of the line poker collusion detection system and a wide variety of tournaments that cater to all types of poker players.
iPoker is presently the largest poker network in the world and supports multiple languages and currencies and offer 24/7 customer support. They also redesigned their iPoker recently to include a new lobby that have resizable tables so players can have larger tables to choose from.
Microgaming
Microgaming provides the software for some of the world's largest poker sites. Formerly known as Prima Network, Microgaming is acknowledged as the earliest online gambling company. Established in 1994, it became one of the world's largest online poker networks by 2005. Microgaming has a long history of organising high quality poker events.
The company is known for giving out huge single bonuses and perfect for players who love slots games. Microgaming adds new game all the time so you'll never run out of things to try.
Cryptologic
This Toronto-based company has been providing online casino software since 1996. They were the first company ever to offer multi-player games back in 1998. Depending on the casino, you may get monthly bonuses, random prizes, or cashback incentives when you choose a Cryptologic powered casino.
The new generation of slots games they've been releasing are nothing short of impressive and definitely worth your money and time. Cryptologic is also known for their superb security features that'll keep your personal and financial information safe.
Realtime Gaming
Established in 1999, Realtime Gaming (RTG) built a reputation as one of the top online casino software providers. They offer a large selection of games and are known for their "Real Series" slots games.
RTG software is fast, solid, and user-friendly. Online poker sites that use RTG software give out generous bonuses. It has both Flash and downloadable version. One of its unique features is many of its games have rules and settings that can be configured by the casino manager. This makes it more flexible depending on what the players are looking for.
What is poker software for players?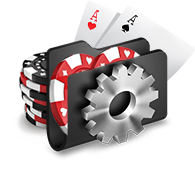 A downloadable software that players use to help them improve their game. Note that some of these are not allowed in some poker sites so you should either contact the site directly or research online to see what works best on specific poker sites.
Poker Tracker. It analyses the hand histories that you download at the end of each playing session. Poker tracker accumulates all of these hand histories and stores statistics in your computer. It runs reports to monitor various statistics like profit and loss, hands played, and time played. The software can also be utilised to find holes in your game by looking at statistics.
Odds calculators. As the name suggests, this software automatically calculates the odds for a given hand based on your own cards and that of other players, when available. It's the perfect tool for beginners and those who don't like crunching numbers.
Tournament Software. Tournament software provides statistics and advice based on a specific tournament. It monitors your stack size and the average stack size so it can give advice on how aggressively you can play. It's perfect for Sit-N-Gos and multi-table tournaments.
Poker training software. This has gained popularity over the years as some of the not so famous poker pros have branched out into the poker education market. This software will help you develop your overall poker skills but not suitable for those looking for help on specific or mathematical aspects of the game. It usually comes with poker training videos and discussions.
Now that you have an idea on how poker software works, it'll be easier to choose the sites you would want to register at. Make sure to also check out our list of the very best for UK players. Download any of the poker tools above as well and you'll be playing like a pro in no time.