Advantages of Online Poker over Live Poker
Online poker has been gaining popularity over the years and for a good reason. It provides the same experience without the hassle of going to poker rooms. Although purists poker players may argue that there's no replacing the experience you feel while you're face to face with your opponent, online poker casinos keep on improving their sites to ensure that you get the same experience as live poker.
And if convenience is not enough, here are some more reasons why you should give online poker a try.
Bonuses
The bonuses that you get when you sign up with top online poker sites are incomparable. Welcome bonus alone can range from £200 - £1000, not mention the bonuses you get from initial deposits you make and loyalty perks you get when you play often.
Keep in mind though that these bonuses come with terms and conditions so make sure that you read the fine print before you agree.
Free Roll Tournaments
Free roll tournaments are almost unheard of in land-based casinos. Take advantage of this offer and if you play well, you might win loads of cash you joined for free.
Perfect for Beginners
Unlike live poker rooms where pros play and serious money are involved, online poker sites allow you to play for fun with no real money involved. It's the perfect avenue to learn the ropes of the game and even perfect your skills. Often times, beginners can feel intimidated or nervous playing with others at a live table. Online poker sites allow you to play anonymously to ease the pressure and truly enjoy the game.
Accessibility
One of the reasons why online poker is popular because players can access it anytime they want anywhere they might be so long as they have computers and Internet access. It truly revolutionised the way people play poker.
Multiple Game Play
Another great advantage of online poker over live poker is multi-tabling. Why settle for one table when you can play 10 all at the same time, right? You get to choose from a much wider range of stakes and tables, so if one table is not looking good, you can easily switch to another. Playing more tables not only hone your skills but increase your chances of winning the big jackpot. Some online poker sites can support up to sixteen different table windows.
More Game Options
Online poker sites can afford to offer a wide variety of games since it's hosted virtually. Aside from the usual Texas Hold'em, you can also play Omaha, 7 Card Stud, Razz, HORSE among other games. There are different games to try everyday so you'll definitely not get bored, not to mention the limitless buy-in amounts.
Survey Other Players
Some of the top online poker sites allow you to check the profile of other players and take notes. This can help you over time as you build your list up and create a useful database that can help you decide which table to join. This is next to impossible in live poker, as you would most likely join a table full of strangers each time you play.
Fast-paced Games
Most online poker offer tables with a time limit for each move, which immensely speeds up the pace of the game so you can join as many tables you want for a chance to win more money.
Save Money
This might seem odd as gambling is all about betting money but think of the last time you played poker at a casino and how much was the minimum buy-in? Not to mention the big blind at the lowest stakes cash game and the amount you tip the dealer when you won a big pot.
We're willing to bet that even the lowest of these figures is way higher than some of the buy-ins available for online cash tournaments. This is especially important for beginners, as you would want to practice bankroll management. And if you're starting out playing small then a cheap online poker game is favourable over a casino game that requires huge amount of cash before you can play.
Play Right Away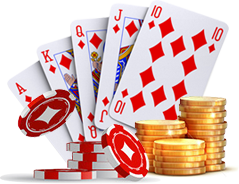 Casinos make money from poker, but most of the time not as much as they do from games with house edge such as blackjack and slots. As a result, casinos may limit the number of poker tables, which of course limit the number of seats available for interested players.
Instead of wasting your time waiting for a seat to open, head on to the top online poker sites and find a vacant seat sooner than you can utter the word deal. Wouldn't you want to have a stress-free experience getting a table so you can put more focus on your game instead?
Most people experience their first poker game through the live format, playing a tournament at a local poker room or simply at a friend's house over bottles of beers. There's no denying the social element that makes live poker enjoyable but the benefits you get from playing online trumps all the things live poker offer. And who says there's no fun in playing live poker? So if you haven't, go give online poker a try.