Chris Moneymaker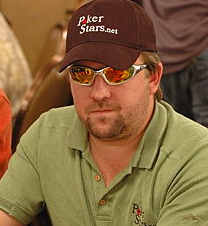 Wikipedia.co.uk
The "Moneymaker Effect" was a moniker given to Chris Moneymaker after he becoming the first poker player to not only secure a spot with the 2003 WSOP, but to have done it with $40 and online. He magically (no skilfully) turned that $40 into a pot of gold by winning a $2.5 million first place win. If that isn't enough, since he doesn't have the money to get to Las Vegas, he borrows it from his good friend, David Gamble. After the unknown poker player from Tennessee won the 2003 WSOP, he realized it was the last time he would win anything as an unknown. In 2004, he came in 2nd at the Bay 101 Shooting Stars World Poker Tour event. Chris remains ranked number one in Tennessee. His total earnings to date are $3,587.316.
Chris Moneymaker graduated with a Master's degree from the University of Tennessee before he became a winning poker player. His life was originally intended to be a typical American family until he realized that he wanted to make enough money to provide a better quality of life. He turned to poker realizing that it could make money playing the game. Ironically his marriage ended a year after securing the 2003 WSOP championship. She desired a simple life married to an accountant. He is now married to Christina Wren and they live in Nashville Tennessee.
Even though he grew up playing cards. He used to play bridge with his Grandma and Blackjack with his father. Inspired by the poker movie "Rounder's," after which Moneymaker started playing poker more seriously, he found it surreal to find himself playing poker next to Johnny Chan, who also played in the movie. Chris Moneymaker isn't the poker fanatic some other professional poker players are. While he seems to enjoy the game, money seems to be the motivation behind his success. Taking care of his family, however, is the reason he's interested in that money.
When Moneymaker became the first person to win the WSOP by qualifying on the Internet, it changed how some people viewed poker and the idea of gambling for a living. Many people realize now that you can keep your day job, which Chris Moneymaker highly advises, and play poker too. No longer do you have to pack your suitcases and struggle to get to Las Vegas, hoping to make enough money playing poker to play again. Since Moneymaker's WSOP win, the number of poker sites on the Internet has increased dramatically. "If he can do it," others say, "I can too." And it's true. Anyone can have a Cinderella story; it just doesn't happen very often.
After his big win, Chris Moneymaker wrote his autobiography "Moneymaker: How An Amateur Poker Player Turned $40 into $3.5 Million at the World Series of Poker" with the hopes that his experience will encourage and guide future poker players. He says he likes to go in now, win a couple hundred dollars, and get out. Chris is still a poker celebrity and will remain so due to his continued rolls with PokerStars and bigger than life role with the WSOP. When asked if he'll ever go back to mainstream work again, Chris Moneymaker answers "yes", and then explains that he owns his own business now and that has become his mainstream work. He doesn't plan to count on poker winnings to support him and his family forever. He is happy, though, that he got to play the leading role in this Cinderella story.