Daniel Negreanu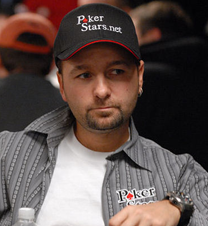 Wikipedia.co.uk
Daniel Negreanu is the Beatles or maybe the Elvis of the poker world. He is clearly number 1 in all areas. To date he has a lifetime earning of $32,315,816. Daniel Negreanu is known as "Kid Poker", and for good reason. He was born on July 26th, 1974 in Canada. Stories are told that he would spend time as a four-year-old boy dreaming about being rich. He entered the poker circuit at the age of 21 and has been a professional poker player ever since. In 2014 he was inducted into the Poker Hall of Fame. He is currently affiliated with PokerStars and he is a very active blogger when he isn't working on his poker skills.
Daniel Negreanu was born to Romanian parents many years after they moved to Toronto Canada. Daniel left high school right before graduation to concentrate on being a poker player full-time. He played in local Canadian charity casinos, and in any other games he could find in his niche. By the age of 21, Negreanu had amassed enough money to try his luck playing professional poker in Las Vegas. Unfortunately this was Negreanu's false start, and he moved back to Canada briefly to once again build up his depleted bankroll.
Daniel Negreanu has never been discouraged by his setbacks. All along the way he learned how to capitalise on the moment and move forward. His first major tournament gained him both respect and notoriety. The up and comer was set on a direction that would forever change his life. In 1998 he played in the World Series of Poker at Binion's Horseshoe in Las Vegas, Nevada, and walked away with a No Limit Texas Hold'em bracelet and $169,460. In 1998, at the age of 23, Daniel Negreanu became the youngest person to win a World Series of Poker bracelet.
Daniel's talent did not go unnoticed. When Wynn Las Vegas opened in the spring of 2005, they recruited Negreanu to be their poker ambassador, where he played in all of their stakes poker games. Daniel stayed their ambassador until October of that same year, but then left so he could play in more games and tournaments in other places. His tournament winnings have put him in the "millionaire" category of poker players, and he has branched out into other areas besides just playing poker. Daniel now has an official poker website, "Full Contact Poker", where he occasionally plays under the name "Kid Poker." He has applied his experience, love of the game and respect of his fans and followers to create a blog on his poker website. In addition, he writes columns for Card Player Magazine, and has contributed some tips and strategies to one of Doyle Brunson's books on poker. Negreanu also tutors people in the game of poker professionally; Toby Maguire of "Spiderman" fame has been one of his more famous students. In February of 2006, Negreanu was dubbed "Favourite Poker Player" at the Card Player, Player of the Year awards.
Daniel Negreanu is refreshingly content to be who he is and loves being in the limelight. He doesn't mind letting on that he listens to birds chirp and the calm of ocean waves while he's playing poker. Negreanu is a very down to earth guy despite his amassed wealth. He doesn't mind letting everyone know how much he misses his dog, Mushu, when he has to be away from him. Famous for his candour and all around nice guy image, Daniel Negreanu promises nothing except "what you see is what you get." Actually, that's a lot.
It's no secret that Negreanu won and lost his fortune many times before he became one of the best poker players on the circuit, however that has not kept him down or out of the game. He is the consummate professional poker player. It is in his blood and that is not something that he tries to hide or deny. It took him years to evolve into the modest yet confident winner he is today, and the fact that he allows others to see his struggle along the way only makes the rest of us appreciate him more.
In recent years his love life has not been the best as his marriage to Lori Weber ended after only a couple years. Unlucky in love, but not so in poker so it seems, Daniel loves the ladies and all the glitz that a celebrity lifestyle offers a man. He has since been connected with many celebrities and beauty queens. Currently he is in a relationship with Hungarian model. But he discovered very early on in his career as a professional poker player that it takes a certain kind of a partner to accept a lover who is a poker professional. He shared his frustration over a time when he was in the middle of a tournament only to have a particular woman call him numerous times asking when he would be home.
Daniel Negreanu doesn't mind giving credit where credit is due. In 2002, he wrote a 3-part article titled, "The Woman who broke me". The article reveals a losing streak Daniel was on when he was involved in a certain relationship. He writes of incessant phone calls asking when he was coming home, and little understanding of his passion. While he doesn't blame anyone directly for losing during that or any other time, he relates how important it is for him to feel supported by the people in his life. It's a delicious little peek into the soul of a man that many admire.
Even with all of the millions he has earned playing tournament poker, Daniel Negreanu is still Daniel Negreanu. The "Poker Kid" writes articles and blogs regularly, and still enjoys playing against anyone in an online poker game.