Doyle Brunson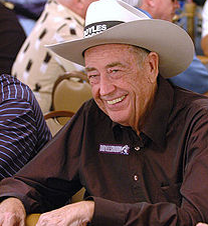 Wikipedia.co.uk
Doyle Brunson has done it all in the world of poker in the last 50 years. Many believe him to be "the most influential man in poker. He is the epitome of a gambler and a gentleman. The amazing thing is that the 78-year-old poker legend is still doing it! He won both the 1976 and 1977 WSOP main event championships, and to date has ten WSOP bracelets. There have been those naysayers who have argued that in 1976 and 1977 there was little competition. It doesn't matter in the end, as Brunson is the most revered. Some would say he is WSOP.
Today you will find Brunson not only blogging about his life as a Poker Professional but also Tweeting his heart out through Twitter. Not only is he the king of the poker table, he is a storyteller. He is currently playing more cash games at the Aria and Bellagio than he is participating in tournaments. Recently to many players' surprise he registered to participate in the Senior's category. Doyle Brunson set the standard in the 70's and he will continue to live on through the ages. His total winnings are just over $6,100,000. Imagine how huge his winnings would have been had he started today with the stakes and prizes being much higher than in the mid-70's. Brunson is the master in our books.
Brunson has written several books, the most famous being "Super System," which has been referred to as the bible of poker. He self-published the book in 1978, and since then it has become a classic. In 2004 he co-wrote "Super System 2". When he first wrote "Super System," there were those who were not too happy about Brunson revealing secrets of the game, as the book marked a host of new players coming out to play poker, and with Doyle's "bible", some of the old boys had to work harder to sustain their wins. Doyle showed amateurs that anyone could play poker.
Doyle Brunson spins tale after tale about the dangers he faced playing illegal poker back home in West Texas in the early days. Getting caught by the cops, it seems, was the least of his worries. It was the robbers he and everyone else who played at that time had to watch out for. Doyle tells of a time when he was playing poker and a gunman burst in the room and shot the person sitting next to him. He talks of being robbed over and over again. It's a wonder that he continued playing.
One reason he did continue was the lousy pay check he got on his first and only "real job". He had only been working a couple of weeks selling bookkeeping supplies, and when payday came around, he realized he had just made in one night of poker the equivalent of a month's pay at work. He promptly quit and started playing poker full-time. He has a Master's degree in education, but again, after finding out what teaching paid, he decided not to go there, so he put on his poker face and has had it on ever since.
Doyle married his wife Louise in the early 60s, and they had 4 children. They lost their daughter, Doyla, at the tender age of 18. After that, Doyle said, he turned to God and embraced him again as he had when he was a child, and recommitted himself. He doesn't like the word "religion", and quickly points out that he's not religious. However, he is also quick to point out that he is a Christian. He's been known to stop in the middle of a poker game to get up and go to church.
Another reason Doyle Brunson continued to play poker for a living is that, at age 28, he had a tumour in his neck. He wasn't expected to live very long, but he did have an operation. After that, the cancer was never found again. Even while Doyle thought he didn't have much time left, he decided to play poker because "life's too short", he mused. "I'm going to do what I want to do".
Doing what Doyle wants isn't about stepping on other people's toes. He has brought more integrity to the game of poker than it ever would have had without him. He believes that a man's word is his honour, and if he can't shake hands on a deal like the way it was done growing up in West Texas, then he doesn't want to deal. He is credited with changing for the better many different aspects of professional poker. No longer a game for robbers and criminals, he has helped bring honesty and a shine to the game of poker.
Doyle Brunson is a member of the poker hall of fame and the first inductee into the World Poker Tour's Walk of Fame. He also maintains a website at doylebrunson.com.