Greg Raymer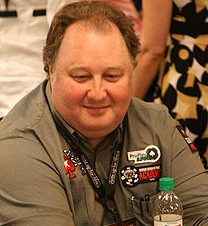 Wikipedia.co.uk
Greg "Fossilman" Raymer is not the man some people expect him to be when they first meet him. His nickname comes from his love of fossil collection. Before Raymer became a poker professional he focused on Blackjack and before that he was a patent attorney by trade. As a student at the University of Missouri he majored in chemistry. He later attained Master's degree in biochemistry and subsequently in Law. After practicing for years for a leading pharmaceutical he turned his genius towards poker. He and his wife currently live in Raleigh North Carolina and when not putting his skills to the test in high stakes poker, he is focused on his Fossilman Poker Enterprise. Like many other celebrity poker players, he is using Social Media to maintain a presence even if he is not pounding the big time World Series of Poker or other mainline tournaments.
More of the Story: Fossilman is known for his amazing "out of nowhere" World Series of Poker No-Limit Texas Hold'em win in 2004, where as a relative unknown he beat out 2576 players to win the championship, Raymer remains a humble and easy-going poker player. His good natured attitude and low-key manner should not be mistaken for lack of poker skills or confidence, however – despite what he says or how he acts, he is a major contender at the tables. According to the most recent count his lifetime earnings are over $7,500,000.
Greg Raymer was born in Minot, North Dakota in 1964. When he was just a few months old, his family moved to Lansing, Michigan, and then again to Clearwater, Florida when he was eleven years old. Unlike some of his other professional poker peers, Raymer started playing poker rather late in life, while he was in college. Despite the late start, however, Raymer showed an immediate instinct for the game, and racked up some extra money playing small stakes games with his college friends. Greg Raymer wasn't thinking of poker as a way to make a living at that time, though; he had other goals in mind. He went on to law school, getting his law degree at the University of Minnesota Law School. Greg became a successful patent attorney, and eventually moved to Stonington, Connecticut in 1999. It was in Connecticut that Greg started playing poker at the famous Foxwoods Resort Casino, and his interest in playing professional poker really started to blossom. He entered a World Series of Poker tournament in 2001, and won some cash by finishing in one of the "money" positions. Once online poker became more of a phenomenon, he also started playing online at some poker websites, including PokerStars, where he eventually won his entry into the 2004 World Series of Poker tournament by winning a PokerStars satellite tournament.
It was in the 2004 World Series of Poker tournament at Binion's in Las Vegas, Nevada, that Greg Raymer, who was by then married with a young daughter, finally made a name for himself. Outlasting 2,575 other players to finally become one of the last two players standing, Raymer finally beat out David "Rugdoctor" Williams to win the $5,000,000 grand prize. Suddenly, the focus was on the quiet man who got the nickname "Fossilman" because of his love of collecting fossils. After his win, PokerStars, which is one of the most famous poker websites on the Internet, hired Greg to be one of their spokespersons, and he found himself doing some television spots for the website. Though Greg had continued practicing law while he was playing poker, he soon turned his attention to poker full time, and it is now his primary occupation.
After his big win in 2004, Greg Raymer turned around and won $304,680 in the 2005 World Series of Poker tournament. His place in the professional poker circuit as a serious contender was well established, and nobody saw him as a "flash in the pan" that became a champion because of a fluke. Raymer isn't a winner because of luck. Once he realized that poker could be a serious occupation for him, he began to study the game seriously, learning as much as he could from books, other players, and from practice. He participates in poker forums online, and when he isn't playing live or online poker, you can sometimes find him discussing the game online with other poker enthusiasts. Despite his focus on poker, however, his greatest joy is spending time with his wife and daughter and teaching other players how to master the game through the "Share My Pair" Play it, Post it, Share it, website and his personal network - Fossilmanpoker.com