Joe Hachem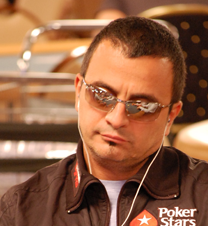 Wikipedia.co.uk
Joe Hachem is an Australian Poker success story. He is currently ranked #1 for all time money wins in Australia. His current overall winnings are at $12,143,302 and it puts him at nineteenth overall globally. Recently Hachem made his debut with the 2015 WSOP 10 years after sealing the deal with the Main Event. In addition to his re-emergence onto the poker scene is his entry into the world as an Australian restaurateur with his cafe; Lorca set to be rebranded after daughter Eliana Lulu.
Unlike many other popular professional poker players who followed a clear and early path to the success that they now enjoy, Joseph Hachem's journey to poker superstardom took many twists and turns that go to prove that you cannot keep a good man down. Joseph Hachem's success proves that you don't have to start young to make a big impression on the game. This Aussie seemed to appear out of nowhere to take the World Series of Poker's highest honour right from under the noses of more established, better-known players. Although he came a little late to the party, there is no doubt that Joseph Hachem is a poker force to be reckoned with on both sides of the Pacific.
Joseph Hachem was born on November 3, 1966, in Lebanon. As a child in the early 1970's, he and his family immigrated to Australia. Joseph Hachem had several careers while honing his poker skills. He first worked as a mortgage broker, and then spent some time working as a chiropractor. In 2002, Hachem had to give up being a chiropractor due to a rare blood disorder that affected his hands. Backed into a forced retirement, he began taking his poker playing more seriously. Hachem formally began his poker career in 2003, making the rounds of professional level tournaments in his adopted homeland of Australia. He enjoyed some moderate success at the smaller tournaments in Australia, but was not a particularly well-known player. It might all have fizzled out if it hadn't been for a game in which he faced off against fellow poker player Aaron Kanter, winning against all the odds. This win gave Hachem the confidence and money he needed to start taking his career to a new level.
It was in 2005 that Joseph Hachem really took the World Series of Poker by storm. A friend of Joe's won an entry into the World Series of Poker main event, and Hachem decided that he wanted to go as well. Instead of trying to get into the main event through a qualifying tournament, Joseph Hechem decided to pay the full entry fee of $10,000. He ended up beating Steve Dannenmann on an improbable hand. Joseph Hachem had been dealt the 7 of clubs, although some sources say it was a spade, and the 3 of spades. Dannenmann's hand was the ace of diamonds and the three of clubs. Hachem decided to go for it, and called Dannenmann's pre-flop raise. A 6, 5, and 4 came out in the flop, giving Hachem a straight. The ace of clubs was brought out in the turn, giving Dannenmann a high pair. Hachem bet, Dannemann raised, and Hachem went all in. In order for Dannenmann to tie, the river needed to turn up a 7, giving him the same straight as Hachem. The 7 didn't materialize for Dannenmann, and Hachem won the game, the bracelet, and $7.5 million. This unknown Australian had just beaten the largest pool of players in the World Series of Poker main event, and had won the largest single jackpot in World Series of Poker history. Even more historic, he did it with the lowest starting hands ever in the history of the World Series of Poker. To date, Joseph Hachem still has just that one World Series of Poker bracelet. His total winnings in American live poker tournaments are $7,640,000.
In addition to his professional poker-playing career, Joseph Hachem is also a spokesperson for Pokerstars. He also runs a small brokerage firm in Pascoe Vale, a suburb of Melbourne, Australia, where he still lives with his wife and four children. Like most other big-money poker winners, Hachem is actively involved in charity and fundraising work for a variety of causes, including Hurricane Katrina relief efforts, animal rescue, welfare charities, and many others.